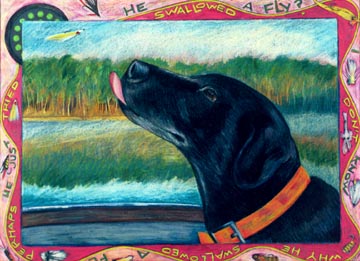 "He Swallowed a Fly?"
Prismacolor Copyright © 1999 K.Holland
Image 10.5x14.5" matted 16x20"
I just experienced an "oh no, he swallowed a fly!" episode with my pup, Hondo. Fortunately, it was discovered later that the fly had popped out of Hondo's mouth, but not before my Pop freaked out. Hondo got a trip to the vet and we got a good look at just how long his tongue really is. I had never seen a vet stretch a dog's tongue around his hand twice for a good grip but it almost all retracted eventually.
next
Home | Gallery 1 | Gallery 2 | Gallery 3 | BigTime Bait